Who Wants to Be a Millionaire? (often informally called Millionaire) is a British television quiz show, created by David Briggs for ITV. The programme's format sees contestants taking on multiple-choice questions based upon general knowledge, winning a cash prize for each question they answer correctly, with the amount offered increasing as they take on more difficult questions. If an incorrect answer is given, the contestant will leave with whatever cash prize is guaranteed by the last safety net they have passed, unless they opt to walk away before answering the next question with the money the cash prize they had managed to reach. To assist in the quiz, contestants are given a series of "lifelines" to help answer questions.
The series originally aired from 4 September 1998 to 11 February 2014 and was presented by Chris Tarrant, airing a total of 592 episodes across 30 series. The original format was tweaked in later years, which included changing the number of questions asked, altering the payout structure, incorporating a time limit, and increasing the number of lifelines offered. After the original series ended, ITV decided to commemorate the 20th anniversary of the programme with a special series of episodes in 2018, produced by Stellify Media and hosted by Jeremy Clarkson. This proved a success with viewers and led to a revival of the programme, with new series being commissioned by the broadcaster and a spin-off ordered in 2022 called Fastest Finger First.
Over its history, the programme has seen a number of contestants manage to achieve the jackpot prize, but has also been involved in several controversies, including an attempt by a contestant to defraud the show of its top prize. Despite this, Who Wants to Be a Millionaire? became one of the most significant shows in British popular culture, ranking 23rd in a list of the 100 Greatest British Television Programmes compiled in 2000 by the British Film Institute. Its success led to the formation of an international franchise, with several countries featuring the same general format but with some variations in gameplay and lifelines provided.
Game series
| Series | No. of episodes | Broadcast |
| --- | --- | --- |
| 1 | 11 | 4th September - 25th December 1998 |
| 2 | 13 | 1st - 13th January 1999 |
| 3 | 12 | 5th - 16th March 1999 |
| 4 | 13 | 3rd - 14th September 1999 |
| 5 | 17 | 5th November - 25th December 1999 |
| 6 | 7 | 16th - 22nd January 2000 |
| 7 | 13 | 26th March - 1st May 2000 |
| 8 | 55 | 7th September 2000 - 6th January 2001 |
| 9 | 45 | 8th January - 26th April 2001 |
| 10 | 43 | 4th September - 29th December 2001 |
| 11 | 55 | 5th January - 9th April 2002 |
| 12 | 19 | 31st August - 28th December 2002 |
| 13 | 22 | 4th January - 31st May 2003 |
| 14 | 21 | 30th August - 27th December 2003 |
| 15 | 23 | 3rd January - 5th June 2004 |
| 16 | 16 | 18th September - 25th December 2004 |
| 17 | 25 | 1st January - 11th June 2005 |
| 18 | 11 | 17th September - 31st December 2005 |
| 19 | 27 | 7th January - 8th July 2006 |
| 20 | 13 | 9th September 2006 - 6th January 2007 |
| 21 | 17 | 10th March - 28th July 2007 |
| 22 | 11 | 18th August - 30th October 2007 |
| 23 | 19 | 1st January - 3rd June 2008 |
| 24 | 18 | 16th August 2008 - 31st January 2009 |
| 25 | 20 | 13th June - 20th December 2009 |
| 26 | 8 | 13th April - 8th June 2010 |
| 27 | 11 | 3rd August - 23rd December 2010 |
| 28 | 6 | 2nd April - 19th December 2011 |
| 29 | 11 | 3rd January - 20th December 2012 |
| 30 | 11 | 1st January 2013 - 11th February 2014 |
| 31 | 7 | 5th - 11th May 2018 |
| 32 | 11 | 1st January - 8th March 2019 |
| 33 | 11 | 24th August - 20th October 2019 |
| 34 | 10 | 25th December 2019 - 15th May 2020 |
| 35 | 7 | 7th September - 27th December 2020 |
| 36 | 13 | 17th January 2021 - 21st August 2021 |
| 37 | ? | 16th November 2021 - 2022 |
Specials
Is that Your Final Answer? – a one-hour documentary about the show, which aired on ITV on 24 December 1999. Directed and produced by Robin Lough, it featured rare footage from the unaired pilot version of the programme, which has completely different music and behind the scenes footage from the programmes aired in Series 4 (September 1999). A similar documentary of the same name was also aired in Australia during 2000. A shorter half-hour Russian version was aired on 4 November 2000. Both of these primarily concentrated on their own versions of the show and featured the local hosts.
Who Wants to Be a Millionaire Night – a two-and-a-half-hour long special, which included parts of Is that Your Final Answer?, that aired on digital channel ITV2 in 2000. Hosted by Tarrant, it looked back on the first two years of the UK version, showing some of its best moments. It also looked at the original U.S. and Australian versions.
Who Wants to be a Millionaire?: Major Fraud – A special episode of Tonight which focused on the 2001 Charles Ingram cheating scandal, hosted by Martin Bashir. It featured key segments of Charles Ingram's run as well as interviews by the witnesses of the ensuing trial, such as fellow contestants and members of the production crew. It was broadcast in the UK on 21 April 2003 (before airing in the US on 8 May 2003 as a special episode of ABC's Primetime). An additional 2-hour documentary on the scandal entitled Who Wants to Steal a Million? was also shown in the US, which featured Ingram's full unedited run.
Quiz – A drama in three parts, each one hour in length, which aired on 13, 14 and 15 April 2020 and is based on James Graham's play of the same name which centres on the 2001 Ingram cheating scandal.
Who Wants to be a Millionaire?: The Million Pound Question – a six-part documentary series about the first seven contestants who've correctly answered the million pound question, including Charles Ingram's scandal (under the title Who Wants to be a Millionaire?: A Very Major Scandal). The series also included other big moments from the show's archives. It was shown across six weeks from November 2020–January 2021.
History
Creation
The creation of the game show was led by David Briggs, assisted by Mike Whitehill and Steven Knight, who had helped him before with creating a number of promotional games for Chris Tarrant's morning show on Capital FM radio. The basic premise for the show was a twist on the conventional game-show genre of the time: the programme would have just one contestant answering questions; they would be allowed to pull out at any time, even after they had seen the question and the possible answers; and they had three opportunities to receive special forms of assistance.
During the design phase, the show was given the working title of "Cash Mountain", before Briggs decided upon using the name of the song written by Cole Porter for the 1956 film High Society, as the show's finalised title. After presenting their idea to ITV, the broadcaster gave the green light for production to begin on a series.
The set designed for Who Wants to Be a Millionaire? was conceived by British production designer Andy Walmsley, who focused the design towards making contestants feel uncomfortable, creating an atmosphere of tension similar to a movie thriller. The design was in stark contrast to the design of sets made for more typical game shows, which are designed to make contestants feel more at ease. Walmsley's design feature a central stage made primarily with Plexiglas, with a huge dish underneath covered in mirror paper, onto which two slightly modified, 3 foot (0.91 m)-high Pietranera Arco All chairs were chosen for use by both the contestant and the host, each having an LG computer monitor directly facing each that would be used to display questions and other pertinent information. The rest of the set featured seating spaced out around the main stage in a circle, with breaks in them to allow movement of people on and off the set. The lighting rig used for the set was designed so as to allow not only the lights to switch from illuminating the entire set, to focusing on the host and contestant on the main stage when a game was underway, but to include special lighting effects when the contestant reached higher cash prize amounts. His overall conception would eventually prove to be a success, becoming one of the most reproduced scenic designs in television history.
The music provided for the show was composed by father-and-son duo Keith and Matthew Strachan. The Strachans' composition for the game show helped with Briggs' tense game design, by providing the necessary drama and tension. Unlike other game show musical scores, the music provided for Who Wants to Be a Millionaire? was designed to be played throughout the entire episode of the show. The Strachans main theme for the game show was inspired from the "Mars" movement of Gustav Holst's The Planets. For the main game of the show, the pair designed the music to feature three variations, with the second and third compositions focused on emphasising the increased tension of the game – as a contestant made progress to higher cash amounts, the pitch of the music was increased by a semitone for each subsequent question. On Game Show Network's Gameshow Hall of Fame special, the narrator described the Strachan tracks as "mimicking the sound of a beating heart", and stated that as the contestant works their way up the money ladder, the music is "perfectly in tune with their ever-increasing pulse".
Original series (1998–2014)
With the show created, ITV assigned Chris Tarrant as its host, and set its premiere to 4 September 1998. The programme was assigned a timeslot of one hour, to provide room for three commercial breaks, with episodes produced by UK production company Celador. Originally, the show was broadcast on successive evenings for around ten days, before the network modified its broadcast schedule in autumn 2000 to air it within a primetime slot on Saturday evenings, with occasional broadcasts on Tuesday evenings.
Who Wants to Be a Millionaire? proved a ratings hit, pulling in average viewing figures of up to 19 million during its broadcast in 1999 (the all-time high was on 7 March 1999, with 19.2 million viewers), though such figures often occurred when the programme was allocated to a half-hour timeslot. By September 2000, viewing figures had dropped to 11.1 million viewers, and by 2003 to an average of around 8 million viewers. Audiences continued to drop, and from 2005 to 2011 the show usually attracted between 3 and 4 million viewers.
At one point in September 1999, an episode had 60% of the TV share and caused the BBC an historic low in ratings. Over the course of his time presenting the game show, Tarrant developed a number of notable catchphrases. Notable ones include "Audience, all on your keypads please. All vote now!", said when the 'Ask the Audience' lifeline is used; "Is that your final answer?", often said to confirm the contestant's answer choice and "But we don't want to give you that", when displaying the contestant's current winning cheque, to urge them on to win more money.
Since its launch, several individuals made claims over the origins of the format or elements of it, with each accusing Celador of breaching their copyrights. In three cases, the matters could not be proven by the claimants – in 2002, Mike Bull, a Southampton-based journalist, was given an out-of-court settlement when he claimed the authorship of lifelines was his work, though with a confidentiality clause attached; in 2003, Sydney resident John J. Leonard made claims in that the show's format was based on one he had made of a similar nature, but without the concept of lifelines; in 2004, Alan Melville was given an out-of-court settlement after he claimed that the opening phrase "Who wants to be a millionaire?" had been taken from a document he sent to Granada Television, concerning his idea for a game show based on the lottery.
One of most significant claims Celador received against them was from John Bachini. In 2002, he started legal proceedings against the production company, ITV, and five individuals who had claimed they had created Who Wants to Be a Millionaire?, stating that the idea from the show was taken from several elements he had created – a board game format he conceived in 1981; a two-page TV format, known as Millionaire, made in 1987; and the telephone mechanics for a TV concept he created in 1989, BT Lottery. In his claim, Bachini stated that he submitted documents for his TV concepts to Paul Smith, from a sister company of Celador's, in March 1995 and again in January 1996, and to Claudia Rosencrantz of ITV, also in January 1996, accusing both of using roughly 90% of the format for Millionaire in the pilot for the game show, including the use of twenty questions, lifelines and safety nets, although the lifelines were conceived under different names – Bachini claimed that he never coined the phrase "phone-a-friend" that Briggs designed in his format. In response to this claim, Celador made a counter-claim that the franchise originated from the basic format idea conceived by Briggs. The defendants in the claim took Bachini to a summary hearing but lost their right to have his claim dismissed. Although Bachini won the right to go to trial, he was unable to attend the hearing due to serious illness. Celador eventually settled the matter with him out-of-court.
In March 2006, Celador began procedures to sell the format of the show and all UK episodes, as part of their first step towards the sale of their formats divisions. The purchase of both assets was made by Dutch company 2waytraffic, which were then passed on to Sony Pictures Entertainment in 2008 when it acquired 2waytraffic. As the original series progressed, variations of the format were created, and screened as special episodes, including celebrity editions, games featuring couples as contestants, and episodes themed around special events such as Mother's Day.
The Christmas Eve celebrity special from December 2010 drew its biggest audience since 2006. To capitalise on this, and breathe new life into the now 12-year-old show, from April 2011 only celebrity contestants appeared on the show, in special live editions that coincided with holidays, events and other notable moments, such as the end of a school term. However, in 2012, three special episodes, entitled "The People Play", were broadcast for three consecutive nights between 9 and 11 July. They featured standard contestants, with viewers at home allowed to play along. The special was used three more times in 2013, once on 7 May, and twice more on 21 May, before the special's format was discontinued.
On 22 October 2013, Tarrant announced that, after fifteen years of hosting the programme, he would be leaving Who Wants to Be a Millionaire?, which consequently led ITV to axe the programme once his contract was finished; no more specials would be filmed after this announcement, leaving only those made before it to be aired as the final episodes. After a few more celebrity editions of the game show, Tarrant hosted his final episode, a clip show entitled "Chris' Final Answer", which aired on 11 February 2014.
Revival (2018–present)
In 2018, ITV revived the show for a new series, as part of its 20th anniversary commemorations of the programme. On 23 February, the broadcaster put out a casting call for contestants who would appear on the game show. On 9 March, Jeremy Clarkson was confirmed as the new host of the show. On 13 April, the trailer for the revival premiered on ITV and confirmed that the show would return in May for a week-long run. Shows aired from 5 to 11 May and were filmed in Studio HQ2 at Dock10 in Greater Manchester. The first episode drew an average of 5.06 million viewers, a 29.7% TV share.
ITV renewed the show for a second series, with Clarkson returning as host. It aired for 6 episodes from 1 to 6 January 2019, with the first episode of the series being the programme's 600th episode since it first aired. The second half of the second series began on 4 March 2019 with 5 episodes, whilst a third series began on 24 August 2019 with 11 episodes, airing weekly. ITV renewed the show for a fourth series at the end of 2019, with 4 celebrity editions of the show airing on 25 December 2019, (a Christmas Special), 4, 5 January and 12 April 2020. This series continued for 6 episodes with regular contestants on 10 May 2020.
In July 2020, it was announced that the programme would start airing its 35th series in September 2020. Due to the COVID-19 pandemic, there was no studio audience and the 'Ask the Audience' lifeline was temporarily suspended. It was replaced with an additional 'Phone A Friend' lifeline, giving a chance for the contestant to phone two different friends. It was broadcast across five consecutive nights from 7 to 11 September 2020. It was confirmed on 21 August 2020 that a contestant would win the £1 million jackpot, the first time it had been won during Clarkson's time as host and the first time it had been won in 14 years. The show returned on 26 and 27 December 2020, for 2 celebrity Christmas special episodes, with the Series 35 Lifeline rules being applied, as well as COVID-19 health and safety guidelines being applied. The first part of series 36 of the show commenced on 17 January 2021, consisting of 6 episodes airing every Sunday, with the 35th series lifeline rules also being applied in this series. The second part of series 36 commenced on 10 July 2021, consisting of 7 episodes airing every Saturday, and concluded on 21 August 2021. The first part of series 37 commenced on 16 November 2021, consisting of 5 celebrity specials, with episodes airing across five consecutive nights.
Top prize winners
Over the course of the programme's broadcast history, seven contestants have received its top prize of £1 million, including six legitimate winners and one illegitimate winner. Charles Ingram, a former Army Major, was stripped of his winnings after it was discovered he had cheated. The legitimate winners are:
Gameplay elements
Fastest Finger First
Main article: Fastest Finger First
10 (or six, for the 2018 reboot and for later seasons) new contestants are introduced each night after a previous Hot Seat contestant exits. In the first series, after the introductions, the contestants are asked a multiple choice question similar to those given to Hot Seat contestants, and must enter the correct answer on their keypad within 20 seconds. After the time is up, The computer will then give the correct answer, check who got it right, and flash the player who got it in the fastest time; that player advances to the Hot Seat.
From the second series until the show's end, the format changed to the version that soon spread to all other versions around the world: The 10 (or six) contestants are given a question and four answers, and must put those answers in the correct order, within 20 seconds. After the time is up, the computer will then give the correct order, check who got it right, and flash the player who got it in the fastest time; that player advances to the Hot Seat as before.
Should there be a tie between 2 or more players with the correct order, a tiebreaker Fastest Finger question will be played between those players only. If no player gets the question right, the question is thrown out and another question is asked.
Money tree
The original show had a 15-question money tree from 1998-2007. This was used again on the reboot series in 2018 and every series thereafter, albeit with a slight change: the contestant can set the second milestone level anywhere between the £2,000 question and the £500,000 question.
August 1998 (pilot episode)
Question
No.
Correct Answer
Value
Walk Away
Value
Miss Answer
Value
Amount Lost for a
Wrong Answer
1
£1
£0
£0
£0
2
£10
£5
£5
3
£100
£50
£50
4
£500
£300
£300
5
£1,000
£500
£500
6
£2,000
£1,000
£1,000
£0
7
£4,000
£2,000
£1,000
8
£8,000
£4,000
£3,000
9
£16,000
£8,000
£7,000
10
£32,000
£16,000
£15,000
11
£64,000
£32,000
£32,000
£0
12
£125,000
£64,000
£32,000
13
£250,000
£125,000
£93,000
14
£500,000
£250,000
£218,000
15
£1,000,000
£500,000
£468,000
Question
No.
Correct Answer
Value
Walk Away
Value
Miss Answer
Value
Amount Lost for a
Wrong Answer
1
£100
£0
£0
£0
2
£200
£100
£100
3
£300
£200
£200
4
£500
£300
£300
5
£1,000
£500
£500
6
£2,000
£1,000
£1,000
£0
7
£4,000
£2,000
£1,000
8
£8,000
£4,000
£3,000
9
£16,000
£8,000
£7,000
10
£32,000
£16,000
£15,000
11
£64,000
£32,000
£32,000
£0
12
£125,000
£64,000
£32,000
13
£250,000
£125,000
£93,000
14
£500,000
£250,000
£218,000
15
£1,000,000
£500,000
£468,000
From 2007-2014, the show had a 12-question money tree.
Question
No.
Correct Answer
Value
Walk Away
Value
Miss Answer
Value
Amount Lost for a
Wrong Answer
1
£500
£0
£0
£0
2
£1,000
£500
£500
3
£2,000
£1,000
£1,000
£0
4
£5,000
£2,000
£1,000
5
£10,000
£5,000
£4,000
6
£20,000
£10,000
£9,000
7
£50,000
£20,000
£19,000
8
£75,000
£50,000
£50,000
£0
9
£150,000
£75,000
£25,000
10
£250,000
£150,000
£100,000
11
£500,000
£250,000
£200,000
12
£1,000,000
£500,000
£450,000
In both cases, the values are not cumulative; for example; if the contestant answers the first 2 questions correctly, he or she wins £200, not £300 (i.e. £100 + £200).
Lifelines
There were 3 lifelines available to all contestants prior to the 2010 clock version, when Switch the Question was introduced. Some celebrity specials also allowed a fourth lifeline, and a few of the 'milestone' shows.
50:50: The computer eliminates two incorrect answers, leaving one incorrect answer and the correct answer.
Phone-a-Friend: The contestant calls one of up to 3 friends, who provided their phone numbers to the producers in advance. The contestant has thirty seconds to read the question and four possible answers (two if 50:50 was used beforehand) to the friend, who then has the remaining time to offer input. In the thirty-fifth series, there are two Phone-a-Friend lifelines, the extra one replacing Ask the Audience due to the COVID-19 pandemic.
Ask the Audience: Audience members use touch pads to designate what they believe the correct answer to be. The audience choosing each specific option is displayed to the contestant. This was temporarily dropped for the thirty-fifth series due to the COVID-19 pandemic, and the audience area is replaced with screens, which films usually projected onto just the floor will also be projected onto.
Ask the Host (2018-present): Host Jeremy Clarkson has an unlimited amount of time to offer guidance to the contestant as to what the right answer is. Clarkson hasn't seen the questions beforehand, and to prove this, Clarkson has to ask the computer to reveal the right answer, rather than him usually doing it.
Former Lifelines
Switch (Flip) (2002-2003, 2010–2014): Only became available when a contestant reached £50,000 in the 2010-14 format or whenever a contestant used their first lifeline in 2002 and 2003. A contestant may change their question to a different one. A "Q" symbol will appear on the selected lifeline, therefore, the selected lifeline can't be used again. Originally, this lifeline was called 'Flip' and it was activated when a contestant chose to use a lifeline to flip a question that they didn't want to answer and had a "F" symbol. That version of Switch was available during the 300th show.
Ask the Nation(November 30, 2002): After the player has decided to use Ask the Audience, Chris Tarrant asks the viewers at home to call one of four premium-rate phone numbers, one for each possible answer. The studio audience then votes and Chris reveals the results before the show cuts to a longer commercial break than usual to give the viewers more time to vote. After the break, Chris then reveals the viewer vote.
Competitions for viewers
Telephone Game
The show featured a special telephone game which ran throughout Series 15, where viewers had to phone in and to answer questions so that they could win up to a virtual million pounds.
The telephone number was 09064 72 72 72. Phone charges were via BT Landline at a cost of 60p for up to one minute.
Text Game
Main article: Text game (UK)
The text game ran between 23 October, 2004 & 28 July, 2007 on the UK version of the show. In Series 16, 17, 18 & 19 it was only played after a contestant decides to take the money, however this was later changed for Series 20 & 21 when it was played during the commercial break after the contestant gives a final answer which has not yet been revealed.
Chris Tarrant reads out the question and its choices to the viewers. The viewers had to text the letter of the correct answer (A, B, C or D) within 30 seconds, or during the commercial break, after which the correct answer was revealed and one viewer won £1,000.
The mobile phone number of this text game was 07797 808 900. Entries were via SMS at a cost of £1 per message.
Tonight's Viewer Question
From S22 EP1, the show featured a competition game called "Tonight's Viewer Question". The competition offered viewers at home to play the game where they had to answer a four-choice question similar to those in the main game, either via SMS or BT Landline. The competition ran through most of the programme, after which the answer was revealed and the programme ended. A random viewer who answered the question correctly would then win £1,000.
The telephone number 09012 93 1000 and text number 84644 replaced the mobile number 07797 808 900 of the previous text game. Entries costed a maximum flat rate of £1.
Parodies
The IT Crowd
In the third episode "Fifty-Fifty", Daniel Carey was a contestant on the show. But, not physically shown in the episode.
£32,000 or £64,000 (10 or 11 of 15) - Not timed
Who composed 'The Wooden Prince'?
'50:50' and 'Phone-a-Friend' lifelines used

• A: Bartók
• B: Chopin
• C:
• D:
Daniel first used 50:50, eliminating C & D, then phoned Jen Barber asks her for dinner with him tomorrow night, she says yes. She unfortunately does not know the answer to the question and gives Daniel the wrong answer, costing him £31,000.
The Jonathan Ross Show
£6.07 and a mint - Not timed
How quickly does Olly Murs drink a pint of milk?
'Ask the Audience', 'Phone-a-Friend' and '50:50' lifelines used
• A: 3 seconds
• B: 5 seconds
• C: 7 seconds
• D: 10 seconds
Ask the Audience Results: A: 25% • B: 25% • C: 25% • D: 25%
Chris wanted to take the money but wasn't allowed so he asked the audience. Since all the results came back at 25% each he asked to Phone a Friend, he was only allowed to phone Keith Lemon, who thought it was 3 seconds. Jonathan Ross suggested to use 50-50 so Chris did which took away A and D. Keith then phoned them back saying it was 5 seconds. Chris then made 7 seconds his final answer which was incorrect, so he didn't win the money or mint.
Kelly
In episode on 22 November, 2001, Gerry Kelly, a host of a UTV talk show Kelly (1989-2005) appeared in a 'special' edition of Who Wants to Be a Millionaire? with Chris Tarrant (without the studio audience), who also appears as a guest on the chat show. This episode was broadcast shortly after it was revealed that criminal proceedings had started against Charles Ingram, who won £1,000,000 by cheating. Mr. Kelly walked away with £32,000, answering the £500,000 question wrong.
Harry and Paul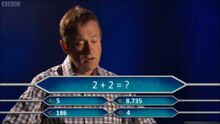 In an episode of Harry and Paul, Derek Anderson is on the show with a fake Chris Tarrant and is asked the following question:
£100 (1 of 15) - Not TImed
2 + 2 = ?
• A: 5
• B: 8.735
• C: 186
• D: 4
Derek says that A has a ring to it, but so does B. He doesn't think it's C but doesn't know why. He also says it could be D, or A, or B. Chris Tarrant has to hurry him so he goes for D. Chris looks at him, sighs deeply and reveals...that he just won £100!

The two then shoot the stage up with assault rifles.
Redknapps' Big Night Out
In 2021, football manager Harry Redknapp appeared on the show with Jeremy Clarkson as host as part of a wind-up for their Sky 1 show Redknapps' Big Night Out. Harry appeared to answer the £300 question wrong, however his son Jamie, who was his phone-a-friend, then revealed it was all a prank. Harry appeared for real in November, his run filmed straight after the wind-up, and did little better, answering the £1,000 question wrong in the real thing.
£300 (3 of 15) - Not Timed
Former England footballer Jamie Redknapp played his first game as Liverpool captain against which club?
'Phone-a-Friend' lifeline used
• A: Chelsea
• B: Sunderland
• C: Sheffield Wednesday
• D: Arsenal
In the first episode of a 2010 BBC drama series Sherlock, the title character comments on a decision to take a safe pill or a potentially fatal one (both are identical) as a "50:50 chance" before the villain then says "You don't want to phone a friend?".
In the very next episode of the show, another Millionaire joke is shown when a newspaper reporting on the successful recovery of an antique hairpin worth £9,000,000 runs the headline "Who Wants to Be a Million-hair?".
In the 2000 BBC series My Family, Nick Harper details his plan to be rich is to win the million on the show. The family's mother, Susan, then responds with a question: "What is the most common crime committed in London? A: Assault; B: Armed robbery; C: Breaking and entering; D: Car theft" (Susan is paranoid about the idea of burglary), to which he responds "Can I phone a friend?". Michael, Nick's more geeky brother, correctly answers C.
In the 2022 final of Britain's Got Talent, child ventriloquist Jamie Healey and his comedy partner Chuck appeared a mock version of the show. After answering the first and second questions correctly, Jamie answers the third question ("What is the only bird that cannot fly?") correctly with "A penguin", but is asked a follow-up question ("But why can't it fly?") that Chuck answers incorrectly ("Because it's a chocolate bar!").
Contestants
Trivia
The original idea was for the show to have twenty questions, ranging from £10 to £5,242,880. However, when a potential audience was surveyed people preferred being able to call themselves instant millionaires, and the top prize was actually heavily reduced.

In the pilot, the first question was worth just £1. That would then be increased to £10 before you reached £100, £500 and the £1,000 safety net. However, ITV entertainment director Claudia Rosencrantz decided this was too dull, and the £100 question became the first one and £200 and £300 questions were used instead.

The reason the first question was worth £1 was because Millionaire was loosely based on Tarrant's radio phone-in game Double or Quits, where the contestant would start at £1 and keep on doubling their money by answering general knowledge questions. After a contestant answered correctly, they could play on or simply walk away.

The development team for Millionaire originally considered a maximum structure of £25 to a possible £52,428,800.

In the earliest series, the show had a clear glass briefcase containing £1,000,000 in cash. In the event there was a million-pound win, Tarrant was intended to open the briefcase. It was dropped in Series 5 as when the briefcase was opened, £50 notes could have been flying everywhere, potentially giving money to the audience and not the contestant.

This is why on other game shows involving physical cash, contestants aren't usually allowed to touch it (unlike on The Million Pound Drop), for example on multi-million-euro wins on Schlag den Raab, contestants couldn't open their briefcases.

The old episodes of the show are still being repeated on the Challenge game show repeats channel, ITV1 also broadcast interesting moments from the old episodes of English and foreign versions in "Classic Who Wants to Be a Millionaire?" , the title still used for Challenge repeats and Great TV! (formerly known as Sony Channel) also airs the same repeats at Challenge.

When being repeated on Challenge and (more recently) Great TV!, the episodes are broadcast with a heavy amount of editing to remove advertisements, text games, "last time" segments, phone numbers to call to get on the show among other things.

In some early series (Series 5 onwards), all the "learning about the contestant" segments were completely cut, thus leaving just gameplay. The occasional segment was left in for unknown reasons.
Ad breaks were very often included in completely random locations to fit the original broadcasting of these episodes by Virgin Media when they owned Challenge. As a result, almost all of the original ad break locations are missing and were joined together with scenes of "question win" from earlier or later in the contestants' run, often with an applause track and the music that would have been used for winning the question.
As early series were rarely 1 hour long, this meant that one edited broadcast version could be an amalgamation of 3 episodes joined together with often sloppy editing. It is unlikely that original broadcast tapes exist to be reedited in the original format with ads removed as needed.
Any "viewer based" competition was generally edited out with a join made using an applause track. This only started happening towards the 2003-2012 episodes when they would be introduced.

The oldest ever contestant on the show was 75-year-old Bernard Marco on 11th November 1999, and the youngest ever contestant on the show was 18-year-old Michelle McGeachy on 5th March 1999. The average age of participants from the show is 41 years old. The most frequent names of participants are John and Ann.
The average result in the Fastest Finger First was 6.41 seconds.
The total winnings are almost £60,000,000. The average total winnings for the episodes are £114,238, the average winner is £50,200, the average male contestant win is £49,600 and the average winnings of the female contestant is £48,500.
Martin Skillings, Ben Bartle, Gerry Lennon, Diane Hallagan, Dougie Wilson, Rob Mitchell and James Plaskett were the seven contestants in the UK to save all three lifelines for the £250,000 question.

None of them won the top prize on the show.

The biggest loss in the game was £218,000 by Duncan Bickley and Rob Mitchell. The most money ever officially lost by a couple was £93,000 by Robert Brydges & Judith Chalmers and Russell Grant & Sheila Ferguson.

Laurence and Jackie Llewelyn Bowen originally lost £468,000, but they were given a bad question for the top prize. As such, they were invited again into the studio, where they were given a second top prize question. This time, they walked away with £500,000.

A children's version of the show was developed in 2000, and a pilot was scheduled to be recorded in Summer 2001. It is unknown if it ever got off the ground.
As of 11th May 2018, the total duration of the show is 10 days 15 hours 30 minutes.
Several pairs of unrelated contestants on the show had the same first names and surnames.

Martin Smith on 6 March, 1999 and Martin Smith on 13 March, 1999
Chris Elliott on 20 November, 2000 and Chris Elliott on 21 & 28 April, 2007
Phil Smith on 11 November, 2006, Phil Smith on 31 March, 2007, and Phil Smith on 17 & 24 August, 2010

The most "expensive" series was the 2000-2001 series, where £7,782,000 was won, presumably due to three Top Prize Winners being crowned (Judith Keppel, David Edwards and Robert Brydges)
The total number of contestants in the UK version's history is 1,840 people (in the hot seat - 402).
The smallest non-zero prize a contestant has won on the show is £500 (Cheryl Turner and Sheridan Booth, but the latter had his winnings taken away due to being a criminal). Craig Logue and Emma North were one of the other few contestants who used all three lifelines before the first safe level (but Craig won £2,000 and Emma won £0).
The fastest contestant in Fastest Finger First was Jonathan Pash (aired on 6th May 2008), who managed to press the keys in just 0.97 seconds.
Charles Ingram was infamous as being the only UK contestant who was caught in deception and deliberate cheating. Thanks to the walkie-talkie and the fan in the studio, who coughed the right number of times on each question, he "won" the top prize of £1,000,000, which was later taken away after his cheque was stopped.
The most widely watched episode in the 20th century was the episode on 7 March, 1999, which was watched by 19,210,000 people (2nd place in the ITV weekly rating board), and in the 21st century - episode on 19 March, 2000 (15,880,000 people, 4th place in ITV weekly rating board).
On 30 November, 2002, the 300th anniversary show was shown. While the contestants used the Ask the Audience lifeline, TV viewers were also given the opportunity to correctly answer this question: for each of the four answers, a phone number was provided so that the viewer could give the answer that he thinks is right by calling the appropriate phone number.
On 27 September, 2003 and 25 February, 2006, there were two cases of a 100% vote on the £1,000 and £4,000 questions. When after the contestant used the Ask the Audience lifeline, 100% of the audience voted for the correct answer.
On 31 March, 2007, the right order for Fastest Finger First was A-B-C-D.
In 2008, a fortune teller predicted that Richard Ronaldson (appeared on 18th November - 2nd December) at the age of 35 would have become the sixth million pound winner, but her prophecy did not come true and he won only £10,000.
On 18 July, 2009 and 6 January, 2019, there were unusual cases on the £20,000 and £250,000 questions respectively: Gill O'Donnell and Oli Blake both took advantage of the Ask the Audience after 50:50, but 81% of the audience voted for the wrong answer. Gill lost £9,000 and Oli lost £93,000.
On 23 December, 2010, a Christmas special episode aired. The show was live and the audience had the opportunity to win up to £500,000, answering the question correctly by phone (release review).
From 6 December, 2011 to 2014, the Russian TV channel "Questions and Answers" aired episodes of the series from the 2007-2010 years (including the clocked series) with Russian translations.
On 10 July, 2012 during the game of Donna Hearnden, the "Ask the Audience" failed to work (A - 0%, B - 0%, C - 0%, D - 0%) due to a technical failure with the keypads, as a result of which Chris Tarrant asked the audience to pick up pre-prepared tablets with the letter of the correct, in their opinion, answer. Most raised the plate with the correct answer. This also happened on 9 November, 2012 on Joe Pasquale & Phil Tufnell's £10,000 question. But, ironically, this incident happened on their fifth questions.
Jubilee episodes:

1 October, 2000 - the 100th show
11 October, 2001 - the 200th show
30 November, 2002 - the 300th show
19 March, 2005 - the 400th show
18 March, 2008 - the 500th show
Gallery
Original format
Clock format
2018 revival
Notes and References
↑ Major Charles Ingram answered all 15 questions correctly and won £1,000,000, but it has later revealed that he has cheated all the way to the million, so he was stripped of his prize.
↑

A celebrity couple answered their original Million Pound Question incorrectly, but due to an error with the question, they were invited back, where they walked away with £500,000.
External Links