Welcome to the Who Wants to Be a Millionaire Wiki!
The wiki all about the series that started in 1998 in the United Kingdom that offers large cash prizes for correctly answering multiple-choice questions of increasing difficulty.
Started on December 8, 2007. We now have a total of 22,203 pages, and 217,142 contributions have been made!
(
view all pages
)
Interlanguage links
Useful links
To-do list
These are some things you can help us with:
Plasmanoodle08's and Darren Monaghan's channel have many videos of the UK version
Some videos of the Australian and the UK versions on James Booker channel
Channel with a lot of videos of the Czech version
WWTBAMclassics has some American videos
Some Videos from https://vk.com/video?q=Who%20Wants%20To%20Be%20A%20Millionaire
Some videos of the Bulgarian version: 1
Some of all episodes of the German version: 1
With gameshows.ru, the Russian website, which has more information of some international versions than Wikipedia, although on Wikipedia, you can change languages with the button on the top-left under the word "Who" on "Who Wants to Be a Millionaire?" for more information.
Update articles in this category so they use the new Ask the Audience parameters. Keep in mind some of these articles need more than that (e.g. infoboxes, categories, pictures), so if possible, add those as well.
Create/expand pages for:

Lifelines
Hosts
International versions
May be done in some near future
Create some sort of Daily Question with a random question from any contestant run.
Set up a way to have featured pages.
Featured Article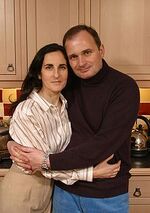 Charles Ingram, a former British Army major from Derbyshire, was a contestant on series 10 of the UK version of the show on the shows scheduled for broadcast on 15 & 18 September, 2001.
After originally winning £1,000,000, the prize was cancelled after it was revealed that he had cheated his way through most of the questions. As a result, the episodes that he appeared in were not actually broadcast until 21 April, 2003.
Featured Videos