Charles William Ingram is an English fraudster, novelist and former British army major from Derbyshire, who gained infamy for his appearance on Who Wants to Be a Millionaire?. He was a contestant on series 10, scheduled for broadcast on 15 & 18 September, 2001.
In episodes recorded in September 2001, Ingram correctly answered fifteen questions to win the show's maximum prize of £1 million, becoming the third recorded contestant to ever do so. However he was denied the winnings due to being accused of cheating throughout most of his run. As a result, the episodes that he appeared in were not broadcast.
Following a lengthy trial at Southwark Crown Court, Ingram was convicted on a single count of procuring the execution of a valuable security by deception. He was subsequently convicted of an unrelated offence involving insurance fraud in 2003 and ordered to resign his commission as a major by the Army Board.
Short biography
Childhood and School Days
Charles Ingram was born on August 6th 1963 in Shardlow, Derbyshire, the son of the retired RAF wing commander John Ingram and his wife, theatre set designer Susan. His father's Wellington bomber, operating with 103 Squadron from RAF Elsham Wolds, had been shot down around 20 or 21 September 1941; he was taken as a POW, while two of his crew were killed.
Ingram's parents divorced when he was young and he spent most of his education years boarding privately at Oswestry School in Oswestry, Shropshire. There he was a member of the Combined Cadet Force and completed the Duke of Edinburgh Silver Award. He went on to obtain a BSc in civil engineering from Kingston University.
Life in the Army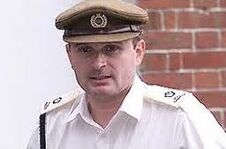 In 1986, Ingram trained for the British Army at Sandhurst and was commissioned as an officer in the Royal Engineers. He was promoted to the rank of captain in 1990, and major in 1995. In 1998, Ingram was sent to Banja Luka in Bosnia for six months on United Nations peacekeeping duties.
He graduated from Cranfield University with a master's degree in corporate management in August 2000. Following the Millionaire scandal and an unrelated insurance fraud offence, he was ordered by the Army Board via letter to resign his commission on 20 August 2003 and give up his rank of major.
Marriage
Ingram met his wife, Diana, while she was training to be a teacher at Barry College in Wales. The two became engaged during his first posting with the Royal Engineers in Germany. They married in November 1989 and have three children.
WWTBAM Run
Background
Prior to Charles Ingram's main appearance on the show, his wife Diana had appeared on the show and won £32,000. Prior to that, her brother Adrian Pollock appeared on the show and also won the same amount of money.
Charles had first appeared on Millionaire on 27 January 2001, but didn't make it to the Hot Seat. He and Diana also appeared on Millionaire Couples on 24 March 2001, but didn't make it into the Hot Seat. On September 9th 2001, having practised with a Fastest Finger First button of his own invention, Charles quickly managed to get into the chair opposite Chris Tarrant for the big money prize. He said that the plan was to "get a million between them".
Fastest Finger First Question
Fastest Finger First Question
Put these words in the order they occur in the title of the Agatha Christie thriller.
• A: Nile
• B: On
• C: Death
• D: The
From the 8 remaining contestants, 7 got it right, but Charles (with a time of 3.97 seconds) was the fastest to correctly answer C-B-D-A, making it into the Hot Seat.
Charles's Run to the Million
Night 1
On the first night of his game, when he got into the hot seat, Charles got through the first four questions without using any lifelines. On the fifth question, he still didn't use a lifeline, but took a while to answer. On question 6, Charles used his Ask the Audience lifeline, and then used his Phone-a-Friend on question 7. After 7 questions, Charles won £4,000 but the klaxon called time, so he had to return the next day to continue.
£100 (1 of 15) - Not Timed
On which of these would you air laundry?
• A: Clothes dog
• B: Clothes horse
• C: Clothes rabbit
• D: Clothes pig
£200 (2 of 15) - Not Timed
What name is given to a person who is against increasing the powers of the European Union?
• A: Eurosceptic
• B: Eurostar
• C: Eurotrash
• D: Eurovision
£300 (3 of 15) - Not Timed
What is butterscotch?
• A: Shortbread
• B: Pavement game
• C: Garden flower
• D: Brittle toffee
£500 (4 of 15) - Not Timed
Which of these is the nickname for a famous Scottish army regiment?
• A: Black Cat
• B: Black Widow
• C: Black Sea
• D: Black Watch
£1,000 (5 of 15) - Not Timed
The Normans, who invaded and conquered England in 1066, spoke which language?
• A: German
• B: Norwegian
• C: French
• D: Danish
£2,000 (6 of 15) - Not Timed
In 'Coronation Street', who is Audrey's daughter?
"

Ask the Audience

" lifeline used.
• A: Janice
• B: Gail
• C: Linda
• D: Sally
Ask the Audience Results: A: 4% • B: 89% • C: 3% • D: 4%
Charles did not know, so he used his first lifeline, He asked the audience, which gave a resounding 4-89-3-4 vote. Charles went with the audience, and won £2,000.
£4,000 (7 of 15) - Not Timed
The River Foyle is found in which part of the United Kingdom?
"

Phone-a-Friend

" lifeline used.
• A: England
• B: Scotland
• C: Northern Ireland
• D: Wales
Charles did not know, so he decided to phone his friend Gerald, who was 99% sure it was Northern Ireland. He went with him and won £4,000. After this question, the klaxon called time and Charles would return on £4,000 with 1 lifeline still available.

Chris Tarrant stated that no-one on the production staff expected Charles to go much further as he had been struggling with the previous questions. Since Charles only had one lifeline left, Chris expected Charles to get to £16,000 and be on his way.
Meanwhile, Charles and his wife Diana Ingram (who accompanied Charles in the audience) called one of the Fastest Finger Contestants, Tecwen Whittock, who would appear on the next show that night. Diana later claimed she alone had spoken with him and purely to wish him good luck.
Night 2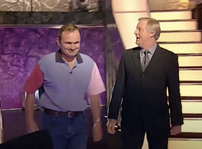 On the next night, before starting the game, Chris asked Charles if he had a strategy. Charles said that he was a little defensive on the last show so he's "going on the counter-attack".
On nearly every question that night, he would try to say all four choices by giving a humorous comment on each of them. Then Tecwen, who was the FFC seat right behind Charles, would cough immediately after Charles said a correct answer. Charles then inexplicably changed his answer to the correct one. This strategy worked throughout most of the night. Charles later claimed he did this strategy for drama and to "think without interruption".
However, during the later questions, Charles chose to play it safe and check around all the answers multiple times, leading to more constant coughing from Tecwen. Despite this Charles won the maximum prize of £1 million, but due to the coughing being obvious in the later questions and the irregularities in answering the questions, his cheque was stopped.
£8,000 (8 of 15) - Not Timed
Who was the second husband of Jacqueline Kennedy?
• A: Adnan Khashoggi
• B: Ronald Reagan
• C: Aristotle Onassis
• D: Rupert Murdoch
Charles immediately thought it was Aristotle Onassis, and Tecwen coughed immediately after Charles said his name. After two coughs, Charles was confident and went for it.
£16,000 (9 of 15) - Not Timed
Emmenthal is a cheese from which country?
• A: France
• B: Italy
• C: Netherlands
• D: Switzerland
This is the only question of the night that Charles knew the answer to without getting help from either Diana or Tecwen.
£32,000 (10 of 15) - Not Timed
Who had a hit UK album with 'Born To Do It', released in 2000?
"

50:50

" lifeline used
• A: Coldplay
• B: Toploader
• C: A1
• D: Craig David
Charles and Tecwen were both unsure of the answer. Charles used the 50:50 and was left with A1 and Craig David, but still had no clue as to which he should go for and Tecwen was unable to help them.
Knowing that her every move was being recorded, Diana, who was in the audience, took a huge gamble and coughed when Charles was musing over Craig David, hinting that was the correct answer. After believing for a long time that it was A1, Charles suddenly changed his mind and went with Craig David, to the surprise of Chris Tarrant.
£64,000 (11 of 15) - Not Timed
Gentlemen v Players was an annual match between amateurs and professionals of which sport?
• A: Lawn tennis
• B: Rugby Union
• C: Polo
• D: Cricket
As Charles played for more money, the coughs become more constant. Charles checked all the answers and two coughs from Tecwen told Charles it was Cricket.
£125,000 (12 of 15) - Not Timed
'The Ambassadors', in the National Gallery, is a painting by which artist?
• A: Van Eyck
• B: Holbein
• C: Michelangelo
• D: Rembrandt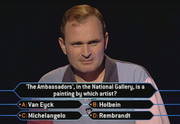 It took two coughs from Tecwen for Charles to be certain that it was Holbein. At this point, the gaps between Tecwen's coughing and Charles being certain of an answer started becoming shorter. The Millionaire production staff have stated that if Charles had chosen to walk away at that moment, he likely would have got away with it as they wouldn't have had much evidence that he was cheating.
However, despite it being believed that the Ingrams had chosen a point to stop, Charles chose to keep going. As a result, a lot more coughs were caught on tape, with Tecwen starting coughing more constantly from this point, providing the Millionaire production staff with enough evidence to prove Charles, Tecwen, and Dian were cheating.
£250,000 (13 of 15) - Not Timed
What type of garment is an Anthony Eden?
• A: Overcoat
• B: Hat
• C: Shoe
• D: Tie
This was another question where Tecwen did not know the answer, so he decided to ask one of the Fastest Finger Contestants next to him if he knew. The contestant Tecwen asked was Tom Lucy, who started becoming suspicious after Tecwen asked him. Tom thought that Tecwen turned towards him and asked him just for something to say but once Charles made it to the million, as Tom knew the answer to both the £250,000 and £1,000,000 questions, he knew exactly what was going on for sure.
Tecwen: What's that?
Tom: It's a hat.
Tecwen: That's what I thought.
Tom: Geez... I wish I was up there.
Tecwen: You ever worn one of them?
Tom: I haven't but Anthony Eden wore them - very popular in his days.
On this question, it took three coughs from Tecwen this time instead of two for Charles to choose the correct answer.
£500,000 (14 of 15) - Not Timed
Baron Haussmann is best known for his planning of which city?
• A: Rome
• B: Paris
• C: Berlin
• D: Athens
Charles immediately thought it was Berlin simply because he thought Baron Haussmann was a German name. Chris Tarrant replied by saying "Charles, ten minutes ago, you thought it was A1." He forgot to slowly say all the answers, not giving Tecwen a chance to help. Tecwen then took a huge risk by coughing and loudly whispering 'No!'. He broke the code by creating a signal that meant that Charles was about to give an incorrect answer. But Charles continued to think it was Berlin, so Tecwen made a new signal, a nose-blow, trying to tell Charles that it was the all-stop signal. When Charles rules out Paris, Tecwen coughed hinting that it was correct, stopping Charles mid-sentence. Charles once again thought it was Berlin, and Tecwen once again did his all-stop signal.
All the noise Tecwen was making started drawing the attention of a contestant named Larry Whitehurst who started to wonder if he was sending Charles a signal. Larry did not know the answer but carefully listened as Charles was checking around all the answers; and when he said Paris, he heard Tecwen's cough which made him suspicious. After saying Paris two more times, and hearing two more coughs from Tecwen, Charles finally went with Paris. This made a total of four coughs and two nose-blows in a single question. Nobody inside the studio was aware that Charles was cheating except for Tom, Larry, Steve Carroll and future contestant and top prize winner Robert Brydges.
£1,000,000 (15 of 15) - Not Timed
A number one followed by one hundred zeros is known by what name?
• A: Googol
• B: Megatron
• C: Gigabit
• D: Nanomole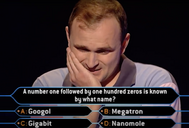 Larry knew the answer before the four choices came up, so he was really able to eavesdrop on the private conversation between Charles and Tecwen. Tecwen once again turned to his left and asked Tom if he knew the answer.
Tom: It's a Googol.
Tecwen: That's what I thought.
Tecwen now had the million pound answer. Charles thought it was Nanomole. He said that he never heard of a Googol, but Tecwen had, so he coughed. Larry was waiting for Tecwen to cough after Charles said Googol; and as soon as he did, Tecwen coughed and Larry figured out the cheating plan. At the same time, Larry did not want him to cough, but he did because he wanted to confirm his suspicion.
Charles then visited all the answers again to check with Tecwen. Although he'd never heard of a Googol, he was actually thinking it was, even though he'd just thought moments before that it was a Nanomole. As he says Googol again, Tecwen coughs a second time. Chris Tarrant reminded him that he was going for the one he never heard of, just because he had never heard of it.
Charles then checked all the answers a third time and on Googol, Tecwen coughed for the last time. After saying Googol one last time, Charles finally played Googol as his final answer. Charles asked Chris not to go for a break, but he did. After coming back, Chris recapped exactly how Charles approached the million pound question. He tore up the cheque for £500,000, and announced that he just won a million pounds, becoming the third recorded contestant to ever do so. Immediately after his win, Chris Tarrant called him "the most amazing contestant we have ever, ever had".
After the show
Cheating scandal
Main article: Charles Ingram cheating scandal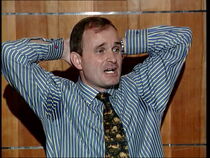 By the time Ingram had left the set, the show's production company, Celador, began to receive allegations of irregularities occurring within the quiz and suspended the jackpot payout to investigate the matter.
While reviewing the recording, the production staff noted that Ingram initially favoured an incorrect answer for each question, and also made a connection between Fastest Finger First contestant Tecwen Whittock's coughing and Ingram's answers. They also noticed that Ingram's wife Diana had coughed before Ingram changed his answer on the £32,000 question. Believing that cheating had occurred, the production company Celador withheld the winnings, suspended the broadcast of Ingram's run, and reported the incident to police. Both the Ingrams and Whittock were charged with "procuring the execution of a valuable security by deception", and taken to Southwark Crown Court in 2003.
During the four-week long trial, the prosecution presented a recording of Ingram's second day on Who Wants to Be a Millionaire?, pager telephone records which were theorised to be a result of practice for a discarded scheme in which four pagers would be hidden on Ingram's body, and testimony from one of the production staff and a "Fastest Finger First" contestant attending the recording, Larry Whitehurst. Although the defence provided evidence claiming Whittock's coughing was a result of dust allergies and a hay fever he was suffering from, and Whittock himself testified against the accusations, footage showed that Whittock was not coughing when he became a contestant after Ingram. On 7 April 2003, the group were found guilty, with all three given suspended prison sentences and fines. The Ingrams were later ordered to pay legal costs within two months of the trial's conclusion. On 24 July 2003, the British Army ordered Charles Ingram to resign his commission as a Major, in the wake of the trial.
In the aftermath of the trial, the scandal became the subject of an ITV documentary entitled Millionaire: A Major Fraud (aired as an edition of Tonight with Trevor McDonald) presented by Martin Bashir and broadcast on 21 April 2003, with a follow-up two weeks later entitled Millionaire: The Final Answer. The documentary featured excerpts from the recording that had been enhanced for the Ingrams' trial, footage of the actions made by Ingram's wife in the audience, and interviews with production staff and some of the contestants who had been present during the recording. None of the defendants in the case took part, with Ingram later describing Major Fraud and a subsequent programme of the matter, shown on ITV2, as "one of the greatest TV editing con tricks in history".
Despite his conviction, Ingram considers him, his wife and Tecwen to be innocent of all charges made against them, and often claims on social media and on interviews, that they didn't cheat. To this day, they are still trying to appeal their case. Chess grandmaster James Plaskett later wrote an essay arguing in favour of the group's innocence; this was noticed by journalists Bob Woffinden and Jon Ronson. Woffinden collaborated with Plaskett on a book entitled Bad Show: The Quiz, The Cough, The Millionaire Major, published in 2015, arguing that Ingram's appearance on the show coinciding with Whittock's was "chance".
Quiz, a 2017 play based on the events of the scandal, was written by James Graham, and a TV adaptation was commissioned by ITV starring Matthew Macfadyen, Michael Sheen and Sian Clifford, which aired in April 2020.
Insurance fraud case
In late 2003, Ingram and his wife were charged with further fraud offences. On 28 October, Ingram was found guilty at Bournemouth Crown Court of obtaining a pecuniary advantage by deception, and of a second charge of deception, having attempted to claim on an insurance policy after an alleged burglary at his home. Ingram had failed to tell Direct Line Insurance about claims he had made in the three years before he took out the policy in July 2001. The court was told that Ingram had been a "habitual claimant" with Norwich Union after suffering "unfortunate" losses of private possessions.
Christopher Parker, prosecuting, said Ingram switched insurers to Zurich Insurance Group in 1997, after Norwich Union reduced a burglary claim from £19,000 to £9,000, and in 2000 switched again to Direct Line. "He has been ineluctably dishonest," Parker said. "He went to Direct Line and didn't make a disclosure about his claims history, because he knew he wouldn't have been insured. It might not have started off as the most monstrous piece of villainy but these things tend to snowball and it all came to a sticky end when he claimed for £30,000." Staff at Direct Line were already "suspicious" about Ingram's £30,000 burglary claim but decided to investigate only after reading newspaper coverage about his questionable win on Millionaire.
Ingram was given a conditional discharge on the charge of fraudulently claiming £30,000 on insurance. The judge told Ingram he took into account "the punishment [Ingram had] brought upon [himself] and [his] dire financial state" and rejected an alternative option of community service after Ingram told a probation officer he feared other criminals would bully him.
Other television appearances
The Ingrams featured on numerous television shows in the UK and overseas including:
Have I Been Here Before? Series 2 – Summer 06 TBC – ITV1;
Big Brother's Big Mouth with Russell Brand - 7 Jul 06 - E4, Sky 140;
The Good Day Show with Tracy Falkes - 13 Jun 06 - Legal TV, Sky 885;
Celebrity Weakest Link Couples Special - 14 Jan 06 - BBC1;
Heads Up With Richard Herring – 10 Nov 05 – Poker Zone, Sky 226;
Hell's Kitchen - 23 Apr 05 - ITV1 & ITV2;
The Games - 2 Apr 05 - Channel 4;
Friday Night Project - 23 Feb 05 - Channel 4;
The Vera Show - 8 Sep 04 - Austria ORF2;
Hell's Kitchen - 30 May 04 - ITV1;
Jack Dee Live At The Apollo - 26 May 04 - BBC1;
Fear Factor - 8 to 14 May 04 - Sky One, Sky 106 (Winner);
The Games - 9 Jan-18 Apr - Channel 4 & E4;
Celebrity Poker Club - 18 to 19 Mar 04 - Challenge TV Sky 121;
This Morning, Regression - 25 Feb 04 - ITV1;
100 Greatest TV Moments - 31 Dec 03 - Channel 4 & E4;
Real Story with Fiona Bruce - 24 Nov 03 - BBC1 & BBC3;
TV Cheats - 22 Nov 03 - ITV1;
GMTV Today - 12 Nov 03 - GMTV;
Celebrity Wife Swap - 11 to 16 Nov 03 - Channel 4;
Richard and Judy - 11 Nov 03 - Channel 4;
This Morning (TV Quick Awards) - 9 Sep 03 - ITV1;
This Morning - 20 Aug 03 - ITV1;
Yes/No Quiz Show - 13 Aug 03 - Bravo TV, Sky 124;
This Morning - 5 Aug 03 - ITV1;
19 Keys - 29 Jun 03 - Channel 5;
This Morning - 26 Jun 03 - ITV1;
Tonight with Jonathan Ross - 13 Jun 03 - BBC1;
Tonight with Trevor McDonald Part 2 - 9 May 03 - ITV1;
Nationwide USA - 2 Hour Special - 8 May 03 - ABC;
Hard Talk - 23 Apr 03 - BBC News 24 & BBC World;
This Morning - 23 Apr 03 - ITV1;
Who Wants To Be A Millionaire Programme Special - 21 Apr 03 - ITV2;
Tonight with Trevor McDonald Part 1 - 21 Apr 03 - ITV1;
The John Daley Show - 18 Apr 03 - BBC Northern Ireland;
GMTV Today - 15 Apr 03 - GMTV.
Legacy
Since his famous Millionaire appearance, Ingram has gone on several other game shows, most notably appearing on The Weakest Link with his wife Diana. During his time on the show, Anne jokingly referred to him as "the dashing young major with a throat infection", and one question posed to him and Diana asked "In classical music what 'C' is the act of throat clearing which members of the audience are asked to try to avoid?", the answer being "coughing".
Ingram has been referenced several times in the revived series of Millionaire, which began airing in 2018. Current UK host Jeremy Clarkson joked about the scandal on the show during a 2019 episode, when an audience member began coughing while he was preparing to read the next question. Clarkson joked that they were supposed to start coughing after he had read the question. In another episode, in response to a contestant's sudden change of mind when answering a question, Clarkson jokingly said "not since the coughing major have we seen a sudden vaulty fast like that".
On April 17th 2020, Clarkson indirectly referred to Ingram in a Twitter video. He revealed that he would be hosting an online pub quiz for his followers, and joked that they didn't even have to cough to cheat.
In September 2020, during Donald Fear's run to the million, Clarkson asked Fear how many people had won the million on the show. Fear told him that six people had won (including Ingram as one of the winners), to which Clarkson replied "you could be the seventh."
Quotes
| | | |
| --- | --- | --- |
| " | God, no! | " |
| | ~ Charles Ingram after the klaxon called time | |
| | | |
| --- | --- | --- |
| " | I'm gonna go for Craig David. | " |
| | ~ One of Charles Ingram's most famous quotes | |
| | | |
| --- | --- | --- |
| " | I'm not sure I can go, I just don't think I can do this one. God... I don't think It's a megatron. And I have to say, I haven't, I don't think I've heard of a googol. By process of elimination, I actually think it's a googol, even though I don't know what a googol is. | " |
| | ~ Charles Ingram on the final question | |
| | | |
| --- | --- | --- |
| " | I completely refute that obviously. | " |
| | ~ Charles Ingram after being accused of cheating on the show, two hours after he won the million. | |
| | | |
| --- | --- | --- |
| " | I simply don't understand why the magistrates found me guilty and frankly I'm not only devastated, I find it incredulous. | " |
| | ~ Charles Ingram after the trial | |
| | | |
| --- | --- | --- |
| " | I very much regret that the pressures associated with recent events have made it impossible for me to complete my full term of military service, as I had hitherto envisaged. The idea that Diana and I will be able to live a life of ease without obtaining future employment is, I am afraid, an illusion. | " |
| | ~ Charles Ingram about leaving the Army | |
| | | |
| --- | --- | --- |
| " | I did not cheat, if I can use that very firm expression to cover everything. I can't say that there wasn't coughing going on, but I did not either hear or use coughing as any form of mechanism for being able to answer those questions. | " |
| | ~ Charles Ingram claiming to not have cheated during an interview | |
| | | |
| --- | --- | --- |
| " | I should make one thing clear and I'll only say it once and then move on. We didn't cheat on that show. There was no plan to cheat on that show. I won that money perfectly honestly and fairly and squarely, and while I was sitting there in the centre of the studio, I did not notice any coughing at all. I was entirely unaware of it. As for the victims, I've heard a lot of people say that this is a victimless crime. Well actually there are victims, the three defendants were the victims, we should not have been found guilty on the evidence that was presented in court. We were found guilty on a very good story. Pieces of the jigsaw crammed together that were ill-fitting, and indeed pieces were missing and they were wallpapered over. We didn't do it. We really didn't cheat. I certainly did not cheat. In the middle of that room, I heard no coughing whatsoever. | " |
| | ~ Charles Ingram claiming to not have cheated | |
Gallery
Videos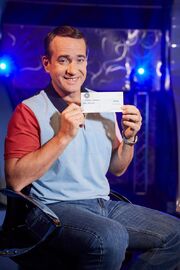 In popular culture
Trivia and Notes
To date as of now, Charles Ingram is the last UK contestant to be stripped of his prize money, the previous three contestants were Neil Muir, Sheridan Booth and Andrew Lavelle - who were all stripped of their prize money for having criminal records.
This scheme of using 4 vibrating message pagers (each corresponding to answers A, B, C or D) was originally going to be used to help Charles Ingram cheat his way to the million when he was in the hot seat before the cheats dropped the plan as they thought it would be 'too risky'.
It's often believed that Charles Ingram would've gotten away with it had he not gone for the million. One member of the audience at the time, did suggest that had he walked away on the £500,000 question, he might not have gained such notoriety.
Charles Ingram and Diana currently live in Bath and sell custom jewellery.
Charles Ingram has a Twitter account. He dislikes Boris Johnson and the Conservative Party.
In 2010, Charles lost three toes on his left foot in an incident involving a lawnmower.
Sources