Not to be confused with 50-50.
"Ok, Computer, take away two random wrong answers; leave (Contestant's name) the right answer and the one remaining wrong answer." - Chris Tarrant
"Okay, let's take away two incorrect answers, please." - Chris Harrison
"Okay, alisin natin ang dalawang maling sagot." ("Okay, let's take away the two incorrect answers.") - "Bossing" Vic Sotto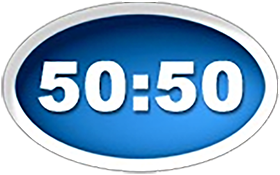 50:50 is a lifeline in the Who Wants to Be a Millionaire? game. When a contestant uses this lifeline, two of the wrong answers are removed, leaving one wrong answer and the correct one, thus giving the contestant a 50% chance of answering the question correctly or incorrectly (though a better chance at answering correctly), hence the name.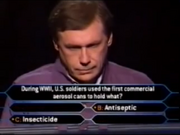 In versions that include both the 50:50 and
Double Dip
lifelines, it is possible for a contestant to use both and automatically get the question right (most notoriously, in
Who Wants to Be a Super Millionaire
, although no contestant did so, but in the Russian, Turkish, Filipino, and Austrian Format, a few of them did).
Originally, using the 50:50 lifeline usually removed the two most obvious wrong answers. Later, it was turned into a random selection (a fact some hosts emphasize before the answers are removed).
Usage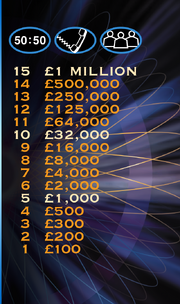 The
U.S. version
featured the 50:50 lifeline since the show's premiere in 1999, in both primetime and during the show's first six syndicated seasons. It was discontinued after introducing the
clock format
at the start of the
seventh syndicated season
, in favor of
Double Dip
. However, it was reintroduced in 2015 at the start of the
fourteenth syndicated season
replacing the
Jump the Question
lifeline as part of the format revamp.
The UK version kept it until the program finished in 2014. When the UK introduced the clock, if a contestant used the 50:50, the clock would stop, and restart after the two wrong answers were removed. The lifeline returned as part of the "20th Anniversary".
Likewise, the Australian version kept this lifeline from the show's premiere in 1999 until its final episode in 2007. The 50:50 lifeline does not appear in the Hot Seat spin-off until 2017.
In the Brazilian version, the lifeline looks different: in the middle is a vertical strip, and on both sides fractions 1/2 are indicated instead of digits.
In other versions it differs again, shown as 1:1, meaning 1 right answer and 1 wrong answer.
Gallery